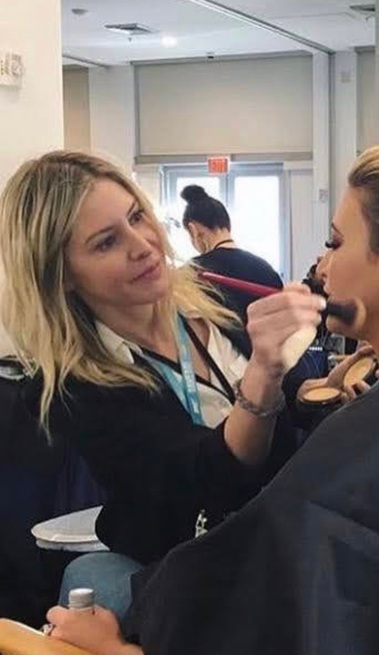 Aliana Moss is a Makeup Artist & Men's Groomer with a natural eye for creating looks that enhance each person's best features. She has a light touch, kind and easy going attitude and is able to quickly adapt to each client's needs. With an artistic training, understanding of color and a precise hand, she consistently creates looks that are fresh and well balanced. "I love being able to help empower my clients through creating looks that make them look and feel their very best".
Aliana's passion for creating started at an early age. Born and raised in Cambridge, MA, Aliana grew up involved in many forms of art. This brought her to Los Angeles where she began her career assisting some of the top artists in the entertainment industry. She has worked on fashion weeks in NY, London, Milan and Paris with artists including Dick Page, Lottie, Tom Pecheux and Val Garland among others.
Diligent and dedicated to offering her clients the very best, Aliana stays current in the latest techniques, trends and products available.
Aliana is currently based out of Los Angeles and travels frequently to New York. She is available for travel worldwide.
Commercial/ Advertising/Ecom:
AT&T
ABC123me
Agaci
Bao Tranchi
Belstaff
Bodyography Cosmetics
Brand Black
Clover Canyon
Coca Cola
Fidelity
Gym Shark
GeorgeHard Tail Forever
Hautelook
Jouer Cosmetics
Just Fab
Laroche-Posay
Nasty Gal
Nissan
NFL
NYDJ
Raccine Skincare
Red Band Society
Sony
Speedo
Sponsorpush
TopFloor
Type F signature series
Zirtec
Editorial:
At Large
Blindfold
CV Luxury
EMMY
Euroman
Fashiz Black
Hermes
InCover
InStyle
LA weekly
Leveled
Malibu Magazine
NY Magazine
People
Variety
Verge
Celebrities/Personalities:
ATCQ
Aaron Paul
Cathryn Michon
Cynthia Frelund
DJ Sigala
Deon Sanders
Griffin Gluck
Harris Dickinson
Jae W. Suh
Jenny Mollen
John Elway
Jordan Spieth
John O'Connor
Julia Antonelli
Kaitlin Doubleday
Keith Powers
Kendrick Lamar
Kurt Warner
Leon Else
Marissa Hermer
Micky Gall
Michael Irvin
MJ Acosta
Nate Burleson
Nolan Sotillo
Peta Murgatroyd
Randall Park
Sir Sly
Taylor Armstrong
Taylor Bisciotti
TJ Dillashaw
Trevor Jackson
William Moseley
Willie McGinest
Wilson Cruz
Television:
Americas Next Top Model (seasons 20,21,22,24)
BET Awards 2013-Janelle Monae Performance
CBS
Fashion Rocks
Goodmorning America
Germany's Next Top Model (S14)
KCET News
Montecito
NFL Network (2018-2023)
Norways Next Top Model
Shahs of Sunset
The Wanted Life
Music Videos:
A Tribe Called Quest-Space Program
Becca Dreams-Precious Gold
Josh Baze-Flashlight
Leon Else-Dance
Fergie-Milf Money (make-up dept)
The Fray-Love Don't Die (make-up dept)
A Great Big World-Say something (make-up dept)
Lady Gaga -Eh eh, nothing else I can say (assistant mua)
Lady Gaga-Paparazi (assistant mua)
RUNWAY: (makeup team supporting key artists)
ALICE & OLIVIA
ANGELO MARANI
AZEDE JEAN-PIERRE
BCBG
BURBERRY
CHANEL
CHRISTIAN SIRIANO
CIVIDINI
COSTUME NATIONAL
DESIGUAL
DIEGO BINETTI
DKNY
ERIN FEATHERSTON
ETRO
FAUSTO PUGLISI
FRONT ROW
GEN-ART
GEORGINE
JOYRICH/SNOOP DOG
MALAN BRETON
MANISH AURORA
MARC BY MARC JACOBS
MESKITA
MICHAEL KORS
MOSCHINO
OPENING CERAMONY
RALPH LAUREN
PHILIPP PLEIN
RICHARD CHAI
SACAI
SPORTMAX
STELLA JEAN
SUZANNE RAE
TEMPERLEY LONDON
TALBOT RUHNOF
TOD'S
WALTER BAKER
WUNDERKIND
VERSACE
VIONETTA